All workshops confer a CPD accreditation certificate for those who require it, and are suitable for graduates of a part-time, 3-year Shiatsu course. Some courses will also be suitable for students.
Post-graduate Shiatsu CPD 2017
Booking now opened for the Spring Retreat 10/11 April 2017
'I feel stronger and more focused leaving here, more love for Shiatsu :)' Christine, 2012
'Has made me feel less doubtful about self and has been confidence building' Participant, 2012
'Reminded about the strength of a group' Student, 2012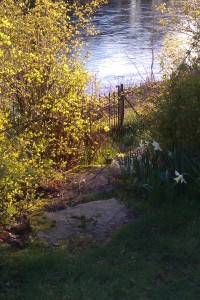 Time away from home to focus and celebrate Shiatsu in an open and friendly atmosphere.
For post graduates and Shiatsu students. Come along and join us at lovely Eastwood House http://eastwoodhousedunkeld.com/  Monday 10 and Tues day 11 April 2017. The timetable will offer both advanced Shiatsu techniques and practical workshops for student levels, one-to-one feedback sessions and stimulating work outdoors. There will be meditation, and Chi Gung, with beautiful walks and fantastic food.
Shiatsu class at Eastwood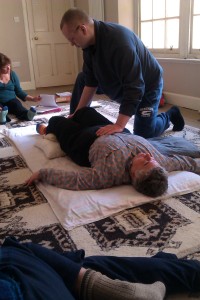 Practice Classes
Practice Classes for students, graduates and practitioners: A great way to receive Shiatsu, meet other like-minded people, and catch up on the news. 7 – 9.30pm  in Central Edinburgh.
Venue: Santosa
tbc
9 January 2017 at the Subud centre, Perth, Scotland.
Please contact us for details: admin@tssed.org 07821 264882
Assisting
Assisting: If you are interested in assisting with The Shiatsu School Edinburgh or the East West Shiatsu School Scotland, please contact Tamsin Grainger admin@tssed.org. You will usually start with a new year 1 group and follow through to the end of that year, or even for 3 years. Alternatively, you can put your name onto the 'occassional assistants' list.
Tutorials
Tutorials: To hone your Shiatsu skills, to get some new ideas, or to reconnect with your touch. With Tamsin Grainger and Cynthia Shuken. In the past, graduates have booked sessions for recapping techniques and meridians, for studying neck pain, and working with a client with MS. Sometimes practitioners are feeling stuck and needing to talk through ways to move forwards. The aim is to provide a safe environment where you can honestly explore what is happening in your practice and feel supported. The cost depends on whether the tutorial is taken individually or is shared. Supervision is also available through TSSED and we can send you a list of other supervisors in the area. Sessions can take place over skype.
How to apply for CPD courses
To apply, please use this postgraduate application form, and send it back to us along with the non-refundable fee or deposit.
Please send completed application form with cheque made payable to 'The Shiatsu School Edinburgh' to:
The Shiatsu School Edinburgh
3 Granton View
Edinburgh
EH5 1BP
You will receive written acknowledgement of your application.
Advanced Shiatsu Training outside Edinburgh
Laura Davison runs a postgraduate programme at the Aberdeen School of Shiatsu http://www.aberdeenshiatsu.co.uk/
Shiatsu Shin Tai with Liz Arundel http://shiatsu-shintai.co.uk/liz-arundel/
Bill Palmer and Movement Shiatsu http://www.seed.org/
The Shiatsu College run a post graduate cerificate: http://shiatsucollege.co.uk/
Suzanne Yates and her Well-Mother project (pregnancy, fertilty, extraordinary vessels) http://www.wellmother.org/
The Shiatsu Sociaty UK (SSUK) e-news and journal runs ads and all sort of news of courses in the UK and abroad. www.shiatsusociety.org
SSUK annual congress: www.shiatsusociety.org
The next European Shiatsu Congress will be in Austria.
Shiatsu Womens' Gathering – annual events organised by various practitioners