Shiatsu – evolution taking form
Saul Goodman writes, 'We are seeing (Shiatsu as) an international movement forming around an activity of human transformation. This international connection itself is a part of a larger social change and is a result of evolution taking form. It is very exciting that so many people are choosing to be part of these activities, and in that choice are themselves co-creating a new society and a new level of human awareness.' *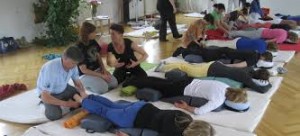 This is strong statement and one which I share. I have been practicing the life-changing art of Shiatsu for 25 years, and teaching at The Shiatsu School Edinburgh since being part of the inaugural team in 2000. During that time I have watched women and men between 18 and 75 years of age interact with others through this very special form of touch and it has been a great learning experience.
Shiatsu – as useful for beginners as for experts
Some of them have come for self-development and to get some healing ideas for family and friends, and I have been so impressed by their responses:  many have told me, after only a one-day introductory workshop, that they are practicing Do-In (self-Shiatsu) every day and getting both relaxation and a boost of energy from it. Others I have met many years after they have attended evening classes (in one case 22 years after!), and they can quote back to me things they learned all that time ago, and they tell me they are now using it with their grandchildren to help them get to sleep.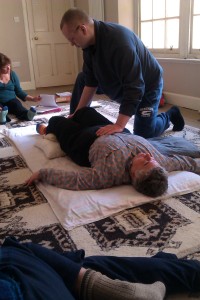 Others have studied Shiatsu for one or two years, acquiring a deep knowledge of their own and others' bodys, and say they look at the world differently, that they have a different perspective on health and how we all interact with each other.
Further, over 40 people have trained for a minimum of 3 years (part-time) and become Shiatsu practitioners. They have travelled all over the world, some starting here in Scotland and finishing in Australia or France; others beginning in England, Ireland or Poland, and completing their studies with us. We are part of an international programme and so students can move around and across borders. They might have taken time off between study years (to have a family, to travel, or due to work commitments), or they might have trained concurrently. Like me, anyone can start to learn Shiatsu without knowing where it will lead them in the future.
Shiatsu training is a process
Whichever way we do it, learning Shiatsu is a commitment. Unfortunately, it is effectively private education, because our college, like the majority of Shiatsu establishments in Britain, is too small to be part of a university with public funding, or validated by an exam board. We are not exclusive though, and over the years we have given bursaries to those with disabilities or who are unable to raise all their own fees for some reason. It is a fact that if you start to give a lot of Shiatsu (for a donation) from the beginning of year 2, you can earn back the full cost of the fees by the end of the fourth year. So the people who train with us raise their own fees, usually working alongside the course(s), and because it takes 3 years, the focus is on the process, practice, and understanding of this fascinating Oriental body work. There's no point in hurrying such a deep and thorough training!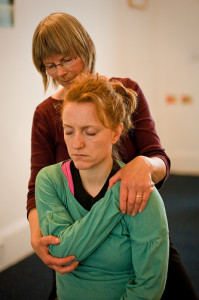 Shiatsu transforms people
One of the reasons I have found Shiatsu so stimulating is that it merges the hands-on work with a thorough and rigorous theory and philosophy. Saul Goodman again: 'As I continued (to study Shiatsu), I slowly began to notice that something else was taking place. Through this activity, which was like a daily ritual or moving meditation, I was being transformed. I realised I was getting equal, if not greater benefit from the practice than were the clients'.* Not only have I found this to be true myself, but it has given me a whole new way of approaching life, a context for my physicality, emotions, mental processes and spirituality. There's a lot to learn and you need those 3 years to get properly and professionally qualified.
Never mind that though, people get hooked by Shiatsu and never look back!
*Shiatsu Shin Tai by Saul Goodman, InfiTech Publications ISBN 0-94-843-01-3