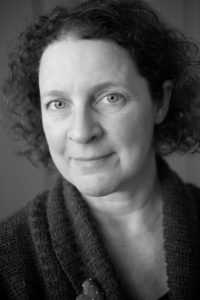 Tamsin a registered teacher with The Shiatsu Society (UK), practitioner Member of the Register of the Shiatsu Society (MRSS) and is on the register of the Complementary and Natural Healthcare Council. She graduated from the Glasgow School of Shiatsu in 1992 having studied the Zen Shiatsu (Masunaga) style, including Five Element (Chinese Medicine) theory, anatomy, pathology and counselling skills, plus related exercises and diet.
Tamsin's teaching experience includes adult beginners classes and weekend courses for The City of Edinburgh Council; one-day Shiatsu Introductory workshops; five-week courses of Baby Shiatsu for parents of new-born babies; training seminars for baby masseurs, Health Visitors with Fife Health Board; schools 'Dealing with stress' workshops; leisure classes at The Scottish Office, and many other events in which adults and children of all ages are introduced to effective techniques for giving Shiatsu to each other.
In 2000 Tamsin started The Shiatsu School, Edinburgh with two colleagues, Audicia Morley and Cynthia Shuken, and has taught all aspects of the 3-year professional practitioner programme, plus the Seated Shiatsu course and post-graduate workshops in Aberdeen, (Scotland), Kiental (Switzerland), Athens (Greece), Paris (France), and Oslo (Norway) as well as extensively in Edinburgh.
When her second daughter was born in 1996, Tamsin started to develop a system of Baby Shiatsu, working with many groups of parents/carers and babies, and gaining experience with a number of specialist symptoms such as talipes and infant hip dysplasia as well as the more familiar colic, excema and floppy baby syndrome. Many of the babies who received Baby Shiatsu are now popping in for Shiatsu with Tamsin to help with school highers, and university exam stress!
Tamsin has recently completed her first book, Working with Death and Loss in Shiatsu Practice, which will be published by Singing Dragon Press in Amsterdam in September 2020.
Tamsin loves to teach Shiatsu to people who want to learn how to work with the whole body, including the mind, emotions and spirit. She intends to stimulate participants' own innate knowing about what is good for them and their families / friends / clients.