We will be running a Japanese Bodywork Diploma / Year Two in 2019 – 20. Dates below. Early bird discount if you pay before 1 August.
In this stimulating course, you will work with varying pace, depth, speed and rhythm, balancing the Elements to create healthy, flowing Ki. This will help to expand your techniques, skills and intuitive feeling of Ki, progressing your Shiatsu to an advanced level and enabling you to widen the group of people on whom you practice Shiatsu.
The course consists of 10 weekends, 2 clinics plus a 5-day residential, enabling successful participants to practice Shiatsu on the public in a supervised manner. It comprises the second of the 3-year, professional Shiatsu practitioner training, and is also an excellent self-development opportunity.
"Overall this is the most supportive learning environment I've known. I also appreciate all the work put into this course. It is thorough and stimulating."
Why do this course?
These courses are for those who are interested in developing themselves and their skills in Shiatsu Practice, and Oriental Theory, integrating anatomy and physiology.
This can be the second year of the full 3-year practitioner training and can also be done after the Shiatsu for Relaxation one year course
Syllabus
Zen Shiatsu theory

Locations and functions of Zen Shiatsu meridians (Masunaga extensions to the traditional meridians)

Kyo/Jitsu theory and practice

Zen Shiatsu Hara and Back diagnosis

Other forms of diagnosis

Traditional (Classical) supplementary CV and GV meridians and their associated points (Tsubos)

Relationship between the Five Elements, in theory and practice

Basic anatomy, physiology and pathology, in line with the core curriculum requirements of the Shiatsu Society (UK)

Continuing the development of the practitioner's own Ki (Japanese term for energy) through self-Shiatsu exercises and other methods

Basic listening skills

Structuring a Shiatsu session

Practitioner development skills

Home Study approx 12 hours per month
The course will be a balanced mixture of practical and theoretical components, with a focus on experiential learning. Hands-on skills learned in class will be reinforced with applied and written homework set between weekends, and regular, constructive criticism is given.
Individual tutorials are offered half way through the course where you will get direct one to one feedback on your development. Assessments are held at the end of the year.
Eligibility
Students will have completed the previous year with The Shiatsu School, Edinburgh (or a recognised equivalent course), or demonstrate that they have reached the necessary level for entry. A willingness to participate and experiment, in addition to demonstrating commitment to the course is important.
 
Dates 2019 – 20
week 1      5 – 6 October
week 2      2 -3 November
week 3      30 November – 1 December
Clinic Day 7 December 10am – 4.30pm
week 4      4 – 5 January 2020
week 5       1 – 2 February
Clinic Day 15 February 10am – 4.30pm
week 6       29 February – 1 March        
week 7         28 – 29  March
week 8         25 – 26 April
Clinic Day 16 May 10am – 4.30pm
week 9         23 – 24 May
week 10       13 – 14  June
week 11      4 – 5 July
Edinburgh Venue:
Venue for classes Southside Centre, 86 Causewayside, Edinburgh, EH9 1PY.
All classes start at 10am and end at 5.30pm.
The course runs over 10 weekends, 10am–5.30pm, plus 2 clinic days and a 5-day residential amounting to 173 hours.
Practice Classes:
We run regular practice classes
Year 2 fees:
Fees include all teaching, assessment and venue fees.
You have three options for paying fees:
Full fee paid in advance (this is an £80 reduction on the standard fee) total £1758.
Early Bird: Deposit £160 before 1 August 2019 plus 11 monthly payments of £148 from August – June (this is a £50 reduction on the standard fee) total £1788.
3. Standard option: Deposit £210 before 31st August 2019 plus 11 monthly payments of                   £148  from September – July. Standard fee £1838.
Making an application
To make an application, please send us an email stating your name, address, phone number and email. Also any previous and relevant experience you might have (this is a course for beginners) and stating why you are interested in learning Shiatsu. We will then send you the bank details for you to make your deposit.
Languages spoken by teachers: Czech, Slovak, French and Polish is understood.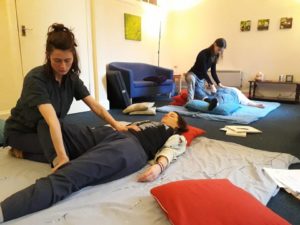 Extra costs:
Books (we will send you a book list on booking the course – some are available to borrow from the School libraries).
3 professional Shiatsu sessions to be received over the year from MRSS or Graduate of a recognised Shiatsu School.
If you miss a full day or a whole weekend you will need to arrange a tutorial to catch up on the practical work. This is normally 1 hour per day missed at a rate of £45 per hour.
An extra sum of £70 will be payable in March towards the Residential accommodation and food costs.
If paying monthly please arrange for your payment to reach our account on the 15th of each month.
We are always happy to speak with you about the course and if you are considering it you may like to come and have a Shiatsu with one of us (there is a reduction from £50 to £45 for those who would like a Shiatsu with  Gabi Irvine