Professional Shiatsu Training – Year 3
Training to be a Shiatsu practitioner takes three years. The first year information is here.
Following that is the Year Two / Japanese Bodywork Diploma here (currently not running).
And, finally, the year which is written about on this page!
Gathering all the strands of energy work together, you will journey deeper into the infinite ocean of Shiatsu, life and well-being. You will receive individual support and tuition with hands-on clinical practice. This will assist you to evolve and develop your skills and intuition, enabling you to work with more specialised conditions.
This course consists of advanced Shiatsu training units which enable successful participants to practice professionally on the public. It comprises the third of the 3-year, Shiatsu practitioner training, at the end of which a Shiatsu School Edinburgh diploma and Member of the Register of the Shiatsu Society (MRSS) will be awarded.
Our professional Shiatsu training courses (theory and practical aspects) are fully registered by The Shiatsu Society (SSUK) and follow its core curriculum, guidelines, and Code of Ethics (500 hours over 3 years) . All teaching staff are SSUK registered teachers.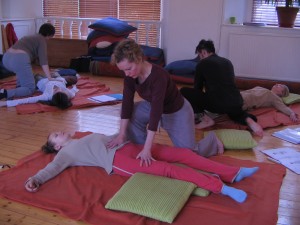 Feedback from past students
"Overall this is the most supportive learning environment I've known. It is thorough and stimulating."

"All of it was amazing. All the awareness exercises have been so beneficial for developing Ki and giving better Shiatsu."
Why do this course?
This course is for those who want to become a Shiatsu Practitioner. Students are interested in developing themselves and their skills in Shiatsu Practice, and Oriental Theory, integrating anatomy and pathology towards full Practitioner status. In line with SSUK regulations, the 3 year training amounts to a minimum of 500 hours. If all assessments and course requirements are satisfied, MRSS (Member of the Register of the Shiatsu Society) status will be awarded on completion.
Syllabus
The course will include:
Masunaga Zen Shiatsu theory including the Zen Masunaga meridian pathways.

Traditional Chinese Medicine (TCM) including the traditional meridians, acupressure points and functions.

Anatomy, Physiology and Pathology in line with the core curriculum requirements of The Shiatsu Society (UK).

Practice Management skills.

Counselling and Communication skills.

Advanced Shiatsu techniques including the Six Forms of Touch, Shiatsu during pregnancy, Shiatsu for babies and children, Quantum Shiatsu techniques and principles.

Death and its relevance to the work of the practitioner

Specialised conditions linked to Pathology.

Diagnosis and Observation; review and consolidation of techniques.

Food and Nutrition.

Clinic Days for practicing on the public; giving recommendations.

Self-Development and Personal Growth.

Retreat (shared with other students and graduates).

Home Study approx 15 hours per month.
The course will be a balanced mixture of practical and theoretical components, with a focus on experiential learning. Hands-on skills learned in class will be reinforced with applied and written homework set between weekends, and regular, constructive criticism is given.
Individual tutorials are offered half way through the course where you will get direct one to one feedback on your development. Assessments are held at the end of the year (practical and written).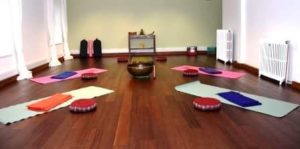 New Edinburgh venue.
Eligibility
Students will have completed previous training with The Shiatsu School, Edinburgh (or a recognised equivalent course in Britain or abroad), or demonstrate that they have reached the necessary level for entry. A willingness to participate and experiment, in addition to demonstrating commitment to the course is important.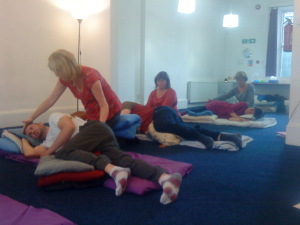 The course runs over 24 days, 10am–5.30pm; with 2 clinic days & a 5-day retreat in the country, Scotland, amounting to 193 hrs, completing the 500 hours required by The Shiatsu Society (UK) to become a practitioner.
Most weekends will be concurrent with the Year 2 Japanese Bodywork Diploma course.
Year 3 fees
Fees include all teaching, assessment and venue fees.
You have three options for paying fees:
Full fee paid in advance (this is an £80 reduction on the standard fee) total £1937.
Early Bird: Deposit £160 before 31st July plus 13 monthly payments of £139 from August – August (this is a £50 reduction on the standard fee) total £1967.
Standard option: Deposit £210 before 31st August plus 13 monthly payments of £139 from Sept – Sept. Standard fee £2017.
Extra costs:
Books (we will send you a book list on booking the course – some are available to borrow from the School libraries).
8 professional Shiatsu sessions to be received over the year from MRSS or Graduate of a recognised Shiatsu School.
If you miss a full day or a whole weekend you will need to arrange a tutorial to catch up on the practical work. This is normally 1 hour per day missed at a rate of £45 per hour.
An extra sum of £70 will be payable in March towards the Residential accommodation and food costs.
If paying monthly please arrange for your payment to reach our account on the 15th of each month.
We are always happy to speak with you about the course and if you are considering it you may like to come and see the centre where we run the classes, or have a Shiatsu with one of us (there is a reduction from £50 to £45 for those who would like a Shiatsu with Tamsin Grainger.
Phone: 07821 264 882 (Tamsin).