The Shiatsu School, Edinburgh (TSSED) was set up in 2000 by Audicia Lynne Morley, Cynthia Shuken and Tamsin Grainger, all graduates of The Glasgow School of Shiatsu.
TSSED offer a full range of Shiatsu training from Introductory Days and weekends for beginners, to the popular Year 1 acupressure course (also for self-development) and the second and third years to be able to start work as a professional practitioner. See under Training for these individual courses.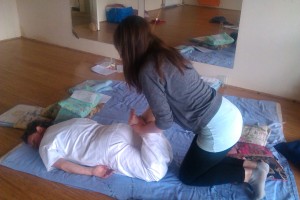 All courses follow the Core Curriculum laid down by The Shiatsu Society (UK).
The vision of The Shiatsu School Edinburgh is to teach with creativity, embracing in its work the fundamentals of care and self-development inherent in Shiatsu itself.
Principal teachers are Members of the professional Register of The Shiatsu Society (UK), (MRSS*), and Shiatsu Society Qualified Teachers.
* Professional Standards.
The Shiatsu Society Registered Practitioners, designated by the initials SrSS or FwSS (Fellow of the Shiatsu Society) after their names, have all achieved an approved standard of training as established by The Shiatsu Society (UK), and are bound by the Code of Ethics of The Shiatsu Society.